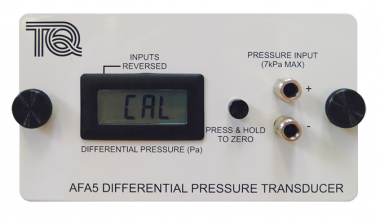 AFA5 - Auxiliar
UNIDAD DE PRESIÓN DIFERENCIAL
PDF datasheet
Digital differential pressure measurement and display unit for use with TecQuipment's Subsonic Wind Tunnel (AF1300).
UNIDAD DE PRESIÓN DIFERENCIAL
The Differential Pressure Transducer and readout is an optional ancillary to TecQuipment's Subsonic Wind Tunnel (AF1300). It measures and displays pressures in Pitot-static tubes and other pressure-sensing devices fitted to a wind tunnel, with respect to the atmosphere or differential pressures.
The control and instrumentation panel of the AF1300 wind tunnel includes a location for mounting up to two Differential Pressure Transducer modules. It is microprocessor-controlled and contains a calibrated pressure transducer. The unit has an integral liquid crystal display that allows the user to read pressure directly.
The signals of the pressure sensors may be output to TecQuipment's optional Versatile Data Acquisition System (VDAS®, available separately). Using VDAS® enables accurate real-time data capture, monitoring, display, calculation and charting of all relevant parameters on a suitable computer (computer not included).
When the Differential Pressure Transducer is used with the automatic data acquisition unit it provides a significant advantage over conventional instruments such as manometers. Many readings can be taken and the user may use a suitable spreadsheet software package to obtain a more accurate overview of pressure distributions.
Case Study
Texas A&M University Zachry Engineering Education Complex
Recently one of the USA's largest engineering schools, Texas A&M University, invested in a new engineering education complex that would revolutionise the way they teach their 20,000 engineering students. One element of this new complex was a new model for laboratories that would allow them to fully utilise equipment and space by creating "common labs",  shared facilities within Zachry Engineering Education Complex completed in 2018. The new building was only part of the story; they invested heavily in new teaching equipment to be housed in this facility, including a vast range of practical engineering teaching products from TecQuipment.