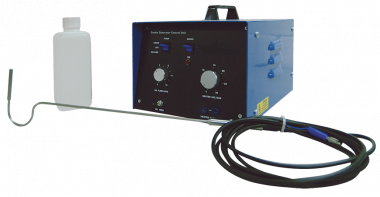 AFA11 - Auxiliar
GENERADOR DE HUMO
This smoke generator and probe are an optional ancillary to TecQuipment's AF1125, AF1450 and AF1600. It allows the observation of airflow in subsonic wind tunnels and other airflow situations.
GENERADOR DE HUMO
Un generador de humo y una sonda que permite a los estudiantes ver el flujo de aire en los túneles de viento subsónicos y otros productos de flujo de aire de bajo caudal. Es una unidad de control que bombea aceite a la punta de una sonda. Una bobina eléctrica de baja tensión en la punta de la sonda, calienta el aceite para producir un buen rastro de humo. El humo se mueve en el flujo de aire, suave y constantemente. Los estudiantes pueden ajustar los controles de la unidad de control para cambiar la resistencia del humo y para adaptarse a las condiciones de flujo de aire.
El aparato incluye una botella de depósito integral. El bajo consumo de aceite permite aproximadamente seis horas de uso con solo un llenado de la botella.
Suministrado con instrucciones, sonda de humo, punta del calentador de repuesto y aceite.