Steam Turbine

TD1060V - Experiment
Mobile laboratory-scale steam turbine that demonstrates fundamental thermodynamic principles of energy conversion and mechanical power measurement.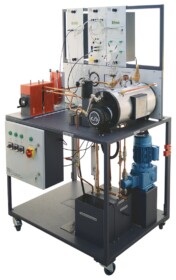 DESEPEÑO DE UNA PLANTADE VAPOR SOBRECALENTADO

TD1050 - Experiment
Una planta de vapor a escala de laboratorio que muestra los principios termodinámicos fundamentales de la conversión de energía, y la medición de potencia mecánica.
VAPOR SATURADO - LA CALDERA DE MARCET

TD1006 - Experiment
Un aparato experimental para derivar la relación de presión de temperatura para el vapor saturado, y verificar la Ecuación de Antoine.