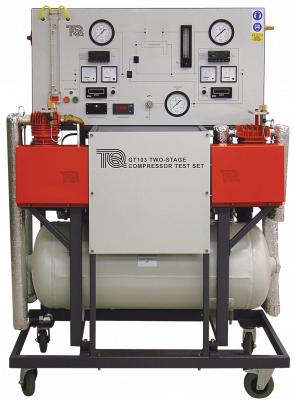 GT103 - Experimento
JUEGO DE PRUEBAS DE COMPRESORES DE DOS ETAPAS
PDF datasheet
Un conjunto autónomo de pruebas de compresores móviles de aire de dos etapas, que permite realizar investigaciones sobre el funcionamiento y el rendimiento de los compresores con una sola etapa, dos etapas y dos etapas con enfriamiento intermedio. También cubre los fundamentos de la teoría del motor térmico.
JUEGO DE PRUEBAS DE COMPRESORES DE DOS ETAPAS
Este conjunto de prueba tiene dos compresores, con enfriador de gas intermedio y aire receptor controlados independientemente. Funciona como un compresor de una etapa, de dos etapas o de dos etapas con enfriador de gas intermedio. Todos los controles y la instrumentación están en un panel simulado muy fácil de operar. Los motores eléctricos y las correas dentadas de bajo mantenimiento, accionan dos compresores alternativos refrigerados por aire de dos cilindros. Las unidades de accionamiento electrónico controlan independientemente ambos motores.
Eficiencia volumétrica, mecánica e isotérmica
Trabajo realizado
Potencia de salida del motor (potencia del eje del compresor)
Proporción de presión
Relación de temperatura
Cálculos de sequedad en la entrada
Diagrama del indicador P-V (necesita indicador de presión opcional)
Efecto del enfriamiento entre etapas en los requerimientos de potencia total del compresor y efecto en las temperaturas del ciclo
Efecto de la compresión en dos etapas y la presión entre etapas en los requerimientos de potencia.
case study
Northumbria University Upgrades Engineering Laboratory Equipment
Located in the North-East of the UK in the heart of Newcastle, Northumbria University has completed a project to make their engineering laboratories some of the best equipped in the country.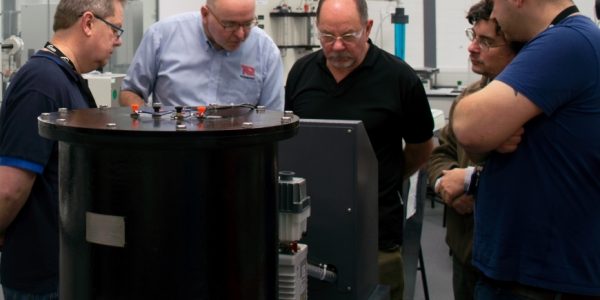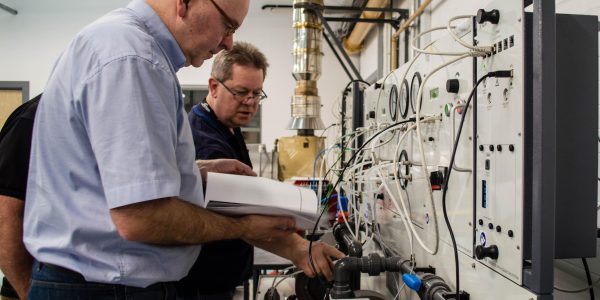 JUEGO DE PRUEBAS DE COMPRESORES DE DOS ETAPAS
SUPPORTING PRODUCTS

MFP104 - Experiment
Permite a los estudiantes estudiar y realizar pruebas en un compresor alternativo: para entender cómo funciona y calcular su rendimiento.