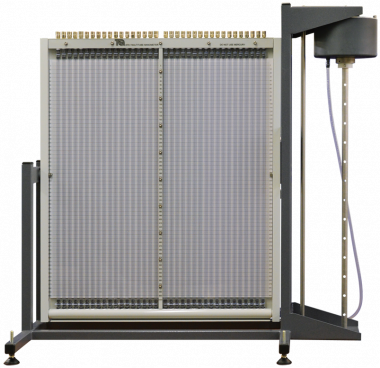 AFA1 - Auxiliar
MANÓMETRO MULTI TUBO
PDF datasheet
A tilting 36-tube manometer for use with the AF1300, AF1450 and AF1600 Subsonic Wind Tunnels, other TecQuipment products, or as a general purpose instrument.
MANÓMETRO MULTI TUBO
A 36-tube tilting manometer for measuring pressure on models in subsonic wind tunnels and fan test sets. A backboard with graduated scale holds each manometer tube. For safety and convenience the manometer uses water as the manometer fluid. This is via an adjustable reservoir with fine-adjust handwheel held at the side of the equipment. Water colouring is included to aid visibility.
The top of each manometer tube has a connection piece for tubing to connect to pressure tappings on the equipment being monitored. The whole manometer tube assembly is mounted on a swivel. This allows it to be tilted in preset increments to increase the sensitivity of measurement. Adjustable feet enable the whole apparatus to be precisely levelled before use. The manometer is supplied with operating instructions, a filling funnel and a spirit level.
MANÓMETRO MULTI TUBO
SUPPORTING PRODUCTS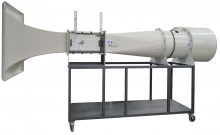 AF1300 - Base Unit
An open circuit suction subsonic wind tunnel with a working section of 300 mm by 300 mm and 600 mm long.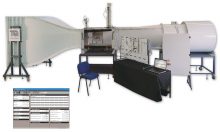 AF1600S - Package
An open circuit suction subsonic wind tunnel with a working section of 450 mm by 450 mm and 1000 mm long. Package includes the Aerofoil with Tappings, a Three-Component Balance, two Differential Pressure Transducers, a 32-Way Pressure Display Unit and data acquisition (VDAS-F).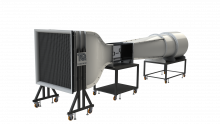 AF1450S - Package
Un túnel de viento abierto de succión subsónica, con una sección de trabajo de 450 mm por 450 mm y 1000 mm de largo. El paquete incluye la Superficie Sustentadora con Conectores, una Balanza de Tres Componentes, dos Transductores de Presión Diferencial, una Unidad de Visualización de Presión de 32 Vías y el Sistema Versátil de Adquisición de Datos (VDAS-F).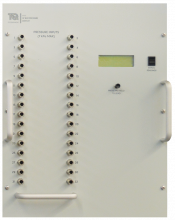 AFA6 - Ancillary
La Unidad de Visualización de Presión de 32 vías AF1300W es un accesorio opcional al AF1300 Túnel de Viento Subsónico que mide y muestra hasta 32 presiones diferentes de los modelos de tubo-Pitot estáticos y otros instrumentos de medición instalados en un túnel de viento.