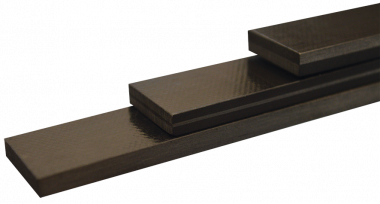 SM1005B3 - Muestras
Variable Stiffness Composite Beam Set - For Euler Buckling Apparatus
PDF datasheet
A set of carbon composite beams with a varied construction along their lengths. The diff erent composition of each beam exhibiting differing bending/stiffness characteristics along its length.
Variable Stiffness Composite Beam Set - For Euler Buckling Apparatus
Composite materials with specifi c properties are common in many industries such as aerospace, automotive, sports and civil engineering. Variable stiff ness composite materials are lightweight, stiff and strong. They have good fatigue and impact resistance. Their properties can be tailored to match the specifi c needs of end users by changing constituent material types and manufacturing parameters such as tow, weave type, resin or manufacturing method.
For variable stiffness composite materials, a variety of carbon fibre architectures can be obtained by interleaving tapes ofr fabrics in diff erent orientations or grades.
The combination of materials used results in a specific configuration of mechanical and performance properties of the resulting composites and determines the end use possibilities.
Composite beams can easily be tailored to specific needs increasing or dereasing certain mechanical properties in aras as required. This helps reduce costs and componenet weight. The Variable Stiffness Composite Beams Set introduces the student to this concept by providing a range of beams whose mehanical properties vary along their length. The beams all maintain the same cross-sectional area.
The beam types included in the kit are:
• Stiff /weak
• Stiff /weak/stiff
• Weak/stiff /weak
All beams are bonded with epoxy resin.
All beams are split into equal stiffness sections.
• Introduction to composites
• Benefits of composites
• Bending properties of diff erent variable stiff ness beams
Variable Stiffness Composite Beam Set - For Euler Buckling Apparatus
SUPPORTING PRODUCTS

SM1004 - Experiment
Un aparato de viga montado en el banco para permitir a los estudiantes investigar las deflexiones y reacciones en vigas simplemente soportadas y en voladizo.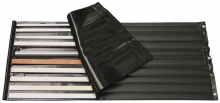 SM1004A - Specimen
Paquete de 10 Vigas adicionales para el SM1004 Aparato de Vigas.