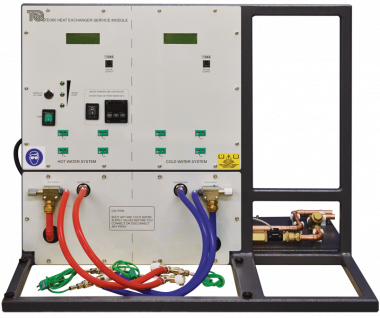 TD360 - Unidad Base
MÓDULO DE SERVICIO DEL INTERCAMBIADOR DE CALOR
PDF datasheet
Módulo de servicio para la gama TecQuipment de unidades de demostración de intercambiadores de calor educativas de banco de mesa.
MÓDULO DE SERVICIO DEL INTERCAMBIADOR DE CALOR
El Módulo de Servicio (TD360) es el núcleo de la gama TD360. Proporciona agua caliente y fría a los intercambiadores de calor y a todos los instrumentos necesarios, para medir su rendimiento. Todas las conexiones de fluido a los intercambiadores de calor opcionales, son conectores rápidos auto sellantes - por seguridad y simplicidad. Los flujos de fluidos calientes y fríos tienen conectores diferentes para reducir errores.
El sistema de agua caliente del módulo de servicios, incluye un tanque con un calentador eléctrico controlado por PID (mecanismo de control por realimentación), una bomba e indicadores de nivel del tanque. Una válvula accionada eléctricamente, se abre para dejar entrar el agua para llenar el tanque. El tanque tiene protección en caso de: una sobre temperatura, por bajo nivel de agua y por sobrellenado. El sistema de agua caliente proporciona flujos y temperaturas estables. El circuito de agua fría del módulo de servicios tiene un regulador de flujo y una conexión para un suministro de agua de red externo. Tanto el sistema de agua fría como el de agua caliente, tienen válvulas de aguja de precisión y medidores de flujo de turbina, para controlar y medir los caudales.
Los termopares en los conectores miden las temperaturas de la corriente del flujo de entrada y salida de calor y frío. Algunos intercambiadores de calor también tienen termopares incorporados, para mediciones de temperatura adicionales. Las pantallas digitales de varias líneas muestran las temperaturas y los caudales de los flujos de las corrientes. Todos los intercambiadores de calor opcionales, tienen la misma área nominal de transferencia de calor y el grosor de la pared, para que los estudiantes puedan compararlos directamente.
Usted puede hacer pruebas con o sin una computadora conectada. Sin embargo, para pruebas más rápidas con una grabación más sencilla de los resultados, TecQuipment puede suministrar el Sistema Versátil de Adquisición de Datos (VDAS®) opcional. Esto proporciona una captura precisa de datos en tiempo real, monitoreo y visualización, cálculo y gráficos de todas las lecturas importantes en una computadora.
Case study
Bangladesh Military Academy
Bangladesh Military Academy invests heavily in new equipment for teaching engineering students. 
MÓDULO DE SERVICIO DEL INTERCAMBIADOR DE CALOR
SUPPORTING PRODUCTS

TD1007 - Experiment
Una unidad experimental para mostrar cómo funcionan los intercambiadores de calor de flujo cruzado de agua a aire.

TE93 - Experiment
Un aparato experimental de montaje en banco para estudios sobre los principios y el desmpeño de los intercambiadores de calor.
VDAS-F (mkII) - Ancillary
A frame mounting versatile data acquisition system (VDAS) to allow computer-based data capture for a wide range of TecQuipment products.