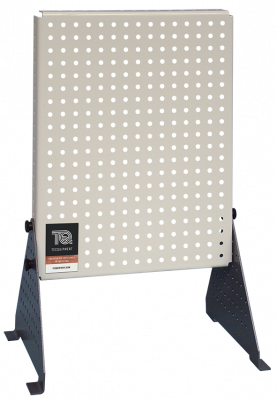 ES1 - Unidad Base
PANEL DE TRABAJO DE CIENCIAS DE INGENIERÍA
PDF datasheet
Panel de trabajo de múltiples posiciones para uso con los Equipos de Ingeniería de TecQuipment
PANEL DE TRABAJO DE CIENCIAS DE INGENIERÍA
Para su uso con los Equipos de Ciencias de Ingeniería de TecQuipment, el Panel de Trabajo se adapta a cualquier escritorio o mesa de trabajo estándar. Los estudiantes, maestros o conferencistas encajan las partes de su equipo en el Panel de Trabajo (ES1) para estudiar o demostrar un tema de ciencias de Ingeniería. El Panel de Trabajo tiene su panel principal y dos apoyos. Todos están hechos de metal perforado grueso para permitir que los estudiantes, profesores o conferencistas puedan ajustar las partes de los equipos y el panel de trabajo en cualquier posición conveniente para los experimentos. TecQuipment suministra un CD-ROM con el Panel de Trabajo (ES1). Este valioso recurso incluye hojas de trabajo reproducibles, notas de orientación y notas del conferencista (con respuestas) necesarias para los experimentos típicos con cada equipo. La selección de piezas en los equipos y la elección de los puntos de fijación en el panel de trabajo permite que los maestros o conferencistas puedan extender los experimentos a un rango aún mayor.
Case Study
East Tennessee State University Expand Engineering Laboratory Facilities
East Tennessee State University, which has a history of teaching engineering technology dating back to the 1930s, made the decision to expand the course offering in 2015 to include a BSc in General Engineering which combines courses from mechanical, civil and electrical engineering. To teach the course they needed an engineering laboratory that had equipment to practically teach the principles of civil and mechanical engineering. There were existing electrical engineering laboratories, to serve the BSc, in the electrical engineering technology programme. After going out to bid, TecQuipment won, based on a balance between price and functionality of equipment.