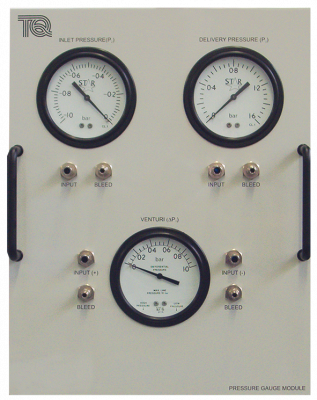 AP1 - Ancillary
ANALOGUE PRESSURE DISPLAY
PDF datasheet
An analogue pressure display module for use with compatible TecQuipment products.
ANALOGUE PRESSURE DISPLAY
Analogue pressure display module to provide clear, direct pressure measurement when used with a variety of TecQuipment experiments.
The equipment consists of three Bourdon gauges mounted in a robust panel. The gauges are differently rated to
show inlet, delivery and Venturi (diff erential) pressure. The panel mounts on the instrumentation frames of relevant TecQuipment experiments.

Each gauge quickly and conveniently connects to pressure outlets. Bleed ports are provided to allow for easy removal of unwanted air. The panel includes handles for ease of lifting.
Case Study
East Tennessee State University Expand Engineering Laboratory Facilities
East Tennessee State University, which has a history of teaching engineering technology dating back to the 1930s, made the decision to expand the course offering in 2015 to include a BSc in General Engineering which combines courses from mechanical, civil and electrical engineering. To teach the course they needed an engineering laboratory that had equipment to practically teach the principles of civil and mechanical engineering. There were existing electrical engineering laboratories, to serve the BSc, in the electrical engineering technology programme. After going out to bid, TecQuipment won, based on a balance between price and functionality of equipment.