Education Equipment for Teaching Alternative Energy Principles

The alternative range offers teaching equipment for the core principles different types of alternative energy including solar and wind turbine generated energy.
TecQuipment Alternative Energy product range

What's New for 2021
Read TecQuipment's new 2021 online interactive products catalogue that includes new products, range highlights, links to videos, datasheets, case studies and more. Click here

Product ranges
Featured products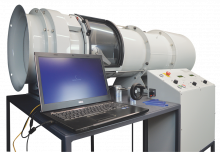 AE1005V - Experiment
This is a versatile, compact apparatus for teaching the fundamentals of kinetic wind energy conversion into electrical power. Flexibility is at the core, it has a castor-mounted frame for mobility and functionality and allows students to 3D-print their own blades for advanced experimentation.
See all Alternative Energy products