Engineering for National Security
The defence industry spans a full range of products and services to support land, air and naval forces. Engineers in the field require a broad depth of knowledge, as they change between various projects.
Cadets and students in the industry are able to learn the fundamental engineering principles with TecQuipment's product range. This will provide them with the strongest foundation for a successful career in the defence industry.
Product ranges
Featured products


H53V - Experiment
Bench-top test set that allows students to investigate the operation and performance of a single centrifugal pump and two centrifugal pumps in both series and parallel. Has VDAS® Onboard for automatic data acquisition.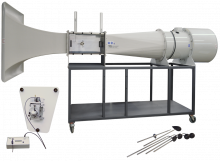 AF1300S - Package
An open circuit suction subsonic wind tunnel with a working section of 300 mm by 300 mm and 600 mm long.
SM1017 - Experiment
A bench-top industrial-standard tester for accurate measurements of Vickers, Brinell and Rockwell hardness.
See all Defence products