Construction is a high cost, high risk industry, that operates on long time-scales. It is however a strong indicator of a healthy economy. Therefore it is vital that the industry has a regular influx of skilled individuals to maintain a nation's infrastructure development.
TecQuipment provide the equipment to educate future engineers in the fundamental principles to build our skyscrapers, dams and bridges.
Product ranges
Featured products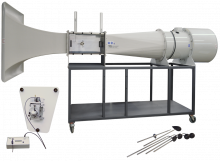 AF1300S - Package
An open circuit suction subsonic wind tunnel with a working section of 300 mm by 300 mm and 600 mm long.
SM1017 - Experiment
A bench-top industrial-standard tester for accurate measurements of Vickers, Brinell and Rockwell hardness.

EC1000V - Experiment
Demonstrates the operational characteristics of an evaporative cooling tower.
See all Construction products