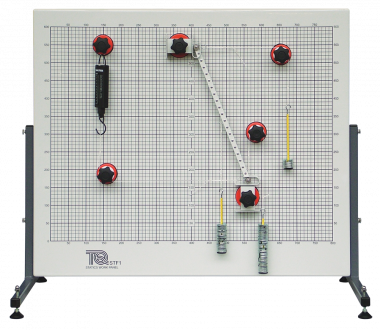 STF3 - Experiment
EQUILIBRIUM OF A RIGID BODY
Practical demonstration of the equilibrium of a ladder.
PDF datasheet
For use with the Work Panel (STF1), the kit allows several experiments with a rigid body – a ladder structure. Students or teachers fit the magnetic parts of the kit to the Work Panel (STF1) to study or demonstrate the forces around an inclined ladder-type structure. 
The kit holds a model ladder at different angles with or without a 'climbing mass' and measures the horizontal and vertical forces. 
The versatility of the kit means that you can adjust the ladder angle between more than 15 to 45 degrees and try it with or without a climbing mass at any position along its length. 
TecQuipment supplies each kit with a fully illustrated user guide containing theory, experiments and typical results.
Horizontal and vertical reaction forces on a ladder
Safe angles for a ladder
A climbing mass on a ladder
A ladder at different angles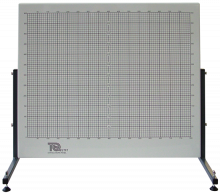 STF1 - Base Unit
A vertical work panel printed with a metric grid. For use with the STF range of experiments.