Speed, Safety and Efficiency
TecQuipment offer a broad range of educational equipment for automotive laboratories in universities and industrial training facilities.
Many facets of engineering need to be applied for an automotive engineering course, covering areas such as mechanical, thermodynamics, vibrations, gears and much more. This knowledge can then be harnessed as students progress into the industry design or manufacture cars, motorbikes or trucks.
Product ranges
Featured products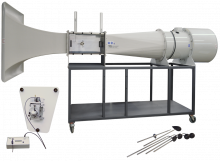 AF1300S - Package
An open circuit suction subsonic wind tunnel with a working section of 300 mm by 300 mm and 600 mm long.
SM1017 - Experiment
A bench-top industrial-standard tester for accurate measurements of Vickers, Brinell and Rockwell hardness.

EC1000V - Experiment
Demonstrates the operational characteristics of an evaporative cooling tower.
See all Automotive products