Marine engineering focuses on the design, development, production and maintenance of equipment and vessels at sea, including boats, ships and oil rigs.
TecQuipment has a great selection of equipment for students to understand the principles of the many areas of marine engineering. These include fluid mechanics, materials, control systems and engines.
Product ranges
Featured products

EC1000 - Experiment
Demonstrates the operational characteristics of an evaporative cooling tower.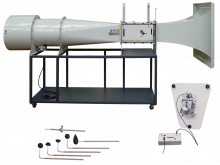 AF1300S - Package
An open circuit suction subsonic wind tunnel with a working section of 300 mm by 300 mm and 600 mm long.
FC300-10 - Experiment
A large open channel flume that provides the opportunity for advanced research and student study on a wide range of fluid flow topics.
See all Marine products