Utilities for the People: 
Electricity, Water, Gas, Waste & Telecoms
The Utilities industry needs many skilled engineers to deliver the set of services that are consumed by the public. These include areas of electricity, water, natural gas, waste/sewage management and more frequently telecommunications.
These utilities need detailed planning and design to be efficiently and safely delivered to consumers. TecQuipment's educational equipment provides the capabilities for future engineers to gain the skills and knowledge necessary to design, build and manage the system that provides the fundamental services.
Product ranges
Featured products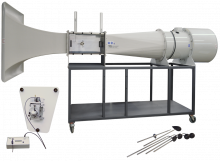 AF1300S - Package
An open circuit suction subsonic wind tunnel with a working section of 300 mm by 300 mm and 600 mm long.
FC300-10 - Experiment
A 300 mm wide 5 to 15 m long flume for student study and advanced research into a wide range of fluid flow topics. A huge range of ancillaries is available to extend learning potential and offers the opportunity for innovative experimentation.

EC1000V - Experiment
Demonstrates the operational characteristics of an evaporative cooling tower.
See all Utilities products