TecQuipment Ltd is 63 years old having been established by Joseph Pope and William Cope in 1958. Simon Woods took over as the sole shareholder and Managing Director in 2008 and has since nurtured TecQuipment to become the global, trusted company that it is today.
Woods comments on the move to employee-ownership "With ownership comes a passion and an engagement that an employee without a stake in the business may never experience. My motivation to transfer the company to the employees was to leave a legacy for the people that have become part of my family, the TecQuipment family. I believe passionately in the people that make up TecQuipment and the importance of offering high quality education to everyone around the world. The idea of selling the company to another organisation via a trade deal was of no appeal, despite the potential financial gain."
An Employee-Owned Trust has been set up that puts the TecQuipment employees in the driving seat of managing the company's future. An Employee Forum that consists of members of each department within the company represents the employees as the primary shareholders in the business. Two members of this Forum have been appointed to the TecQuipment Trustees Board of Directors, Darren Joynes and Nick Cruddas. TecQuipment Ltd board comprises Jon Chicken (Sales and Marketing Director), Paul Wilkinson (Technical Director), Sue Dean (Finance Director) and Simon Woods as the Managing Director.
"To have a share in the company you work for means that everyone feels the benefit of the success. We are excited for what the future holds." Said Nick Cruddas one of the two employee members of the TecQuipment Trustee Board Directors.
TecQuipment will maintain its ambitions to provide cutting-edge teaching solutions that ensure engineering education is inclusive and flexible, adapting to changing constraints and different teaching models of institutions around the world.
- Ends –
Words = 361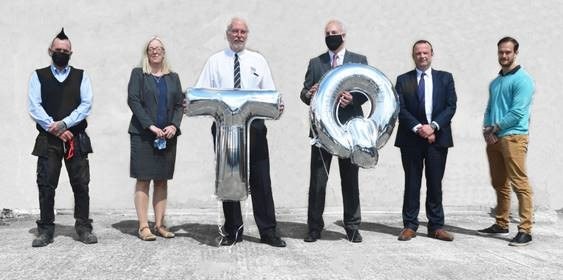 About TecQuipment
TecQuipment is the leading provider of high quality educational equipment for engineering disciplines. The products allow students and educators to perform practical experiments to illustrate engineering principles relating to aerodynamics, control engineering, process control, hydraulics and fluid mechanics, material testing and properties, structures, alternative energies, mechanics and dynamics, thermodynamics and heat transfer, along with electrical power systems.
The company was founded 63 years ago by the Head of Mechanical Engineering at the University of Nottingham and the Managing Director of a clock making company. Over this period, TecQuipment has grown in recognition of its reliable and robust products that are all designed and manufactured to the ISO9001 standard in Nottinghamshire, UK, delivered with a 5-year warranty. The products are used by students and educators across the world, in over 1500 establishments in more than 100 countries.
Editorial Contact Dionne Knowles dionne.knowles@tecquipment.com