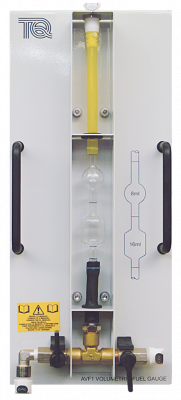 AVF1 - Ancillary
MANUAL VOLUMETRIC FUEL GAUGE
PDF datasheet
A manual volumetric fuel gauge for use with TD200 and TD300 engine test sets.
MANUAL VOLUMETRIC FUEL GAUGE
An easy-to-use, accurate volumetric fuel gauge for use with TecQuipment's engine test sets and engines (TD200 and TD300 series).

The fuel gauge consists of a precision-calibrated two-bulb pipette and control valves. It mounts on the instrumentation frame of the test set and connects between the fuel tank and the engine under test. All connections are made using self-sealing couplings. The couplings ensure the fuel gauge can be connected and disconnected quickly and effi ciently with minimum loss or spillage of fuel.
Fuel enters the pipette from the tank. The fuel supply from the tank is then cut off via a valve so that the engine draws fuel from the pipette only. Students record the time taken to consume a set volume of fuel, from which they can accurately calculate the fl ow rate.

Suitable for use with petrol or diesel.
Case Study
East Tennessee State University Expand Engineering Laboratory Facilities
East Tennessee State University, which has a history of teaching engineering technology dating back to the 1930s, made the decision to expand the course offering in 2015 to include a BSc in General Engineering which combines courses from mechanical, civil and electrical engineering. To teach the course they needed an engineering laboratory that had equipment to practically teach the principles of civil and mechanical engineering. There were existing electrical engineering laboratories, to serve the BSc, in the electrical engineering technology programme. After going out to bid, TecQuipment won, based on a balance between price and functionality of equipment.