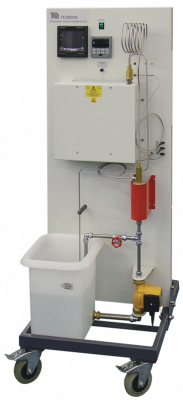 TE3300/05 - Experiment
TEMPERATURE PROCESS TRAINING SYSTEM
PDF datasheet
A self-contained mobile module for temperature process control experiments to illustrate the principles of single-loop control and the calibration & tuning of controllers, transmitters, converters and valves. Demonstrates feedback control, ON-OFF control, P/PI/PID control, distance-velocity lag and temperature control. Distributed control available when used with an optional computer control system.
TEMPERATURE PROCESS TRAINING SYSTEM
The Temperature Process Training System is a compact and mobile unit for a wide range of experiments in temperature control. It gives students a greater understanding of the stability of simple control systems. The self-contained unit can do many experiments, but it can also connect to the optional Computer Control System (TE3300/06) for distributed control.
The main parts of the Temperature Process Training system are:

Industrial controller with autotune feature
Two-channel chart recorder
Heat-exchanger and fan
Temperature transmitter
Thermocouples
Delay coil
In-line heater
Three-speed pump
Reservoir
To perform experiments, students fill the reservoir with clean water and prime the system. They then set the controller to regulate the power to the in-line heater and control the temperature of the water at any of three places. The heat-exchanger removes the heat from the water, to give quicker experiments. The thermocouples (selected by a three-way switch) give feedback to the controller.
For a realistic experience, the equipment has industrial standard instrumentation and parts.
The apparatus includes one gate valve that works as a flow bypass. A chart recorder shows and logs the changes of the process variable (temperature) and the controller output.
Proportional, integral and derivative control
Setting up and demonstrating automatic control
The principles of loop control and the calibration and tuning of temperature transmitters and thermocouples
Operation of a temperature control system
Distributed control (when used with the TE3300/06 Computer Control System)
TEMPERATURE PROCESS TRAINING SYSTEM
SUPPORTING PRODUCTS
CE117 - Experiment
A fully integrated and self-contained bench top process control apparatus containing valves, pumps, power supplies and ancillaries to allow flow, level, temperature and pressure control strategies to be investigated individually and in combinations.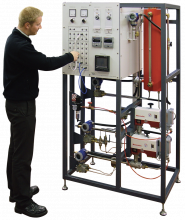 TE37 - Experiment
A laboratory scale model of a typical industrial process plant providing the essential facilities to allow flow level temperature and pressure control. Demonstrates applications of advanced control systems using industry standard instrumentation and controls.
CE103 - Experiment
A compact self-contained bench mounting temperature control apparatus designed to allow students at all academic levels to investigate the basic and advanced principles of control.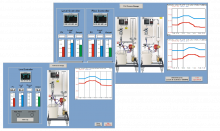 TE3300/06 - Software
A computer control system to provide computer based monitoring, data logging and distributed control of compatible process control training modules in the TecQuipment TE3300 Series.