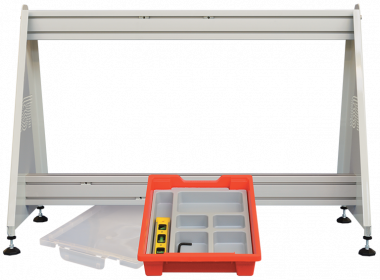 TM160 - Base Unit
FREE VIBRATIONS TEST FRAME
PDF datasheet
A sturdy frame for use with TecQuipment's Free Vibrations Experiments.
FREE VIBRATIONS TEST FRAME
For use with TecQuipment's Free Vibrations Experiments, the Test Frame fits on any standard desk or bench top. Students, teachers or lecturers fit the parts of their free vibrations experiments to the Test Frame to study or demonstrate a free vibrations topic.
The Test Frame has two extruded alloy horizontal members each with slotted fixing points to all four sides. The two triangular sides each have adjustable levelling feet. A stable, level Test Frame is essential in vibration experiments to give repeatable and accurate results.
The sturdy construction is necessary for accurate results in vibration experiments, but this also gives the frame a long service life. Despite its sturdy construction, the frame is light enough for two people to move it around the classroom easily.

TecQuipment include a storage tray and lid with the Test Frame. This is useful to store tools and smaller parts of your optional experiments, helping prevent accidental loss or damage. The Test Frame also includes a hexagon tool and a spirit level for easy assembly and levelling.
Case Study
UK National College of Nuclear North Hub
When it came to finding teaching equipment to support a new technical college for nuclear in the Lake District, UK, TecQuipment was called upon.
FREE VIBRATIONS TEST FRAME
SUPPORTING PRODUCTS

TM16S - Package
This package includes all products from the Vibration section of TecQuipment's Theory of Machines range (TM160–TM167 and TM1016). It offers multiple experiments in both free and forced vibrations, and includes our Versatile Data Acquisition System (VDAS® mkII).