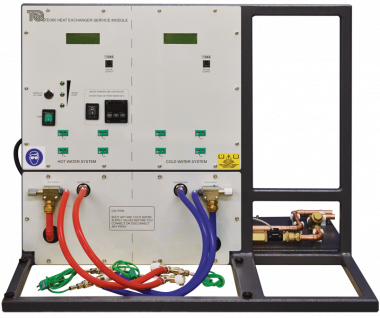 TD360 - Base Unit
HEAT EXCHANGER SERVICE MODULE
PDF datasheet
Service module for TecQuipment's range of bench-top educational heat exchanger demonstration units.
HEAT EXCHANGER SERVICE MODULE
The Service Module (TD360) is the core of the TD360 range. It provides hot and cold water to the heat exchangers and all the instruments needed to measure their performance. All fluid connections to the optional heat exchangers are self-sealing quick connectors – for safety and simplicity. The hot and cold fluid streams have different connectors to reduce errors.
The services module's hot water system includes a tank with a PID controlled electric heater, a pump and tank level indicators. An electrically operated valve opens to let water in to fill the tank. The tank has protection in case of over temperature, low water level and overfilling. The hot water system gives stable flow rates and temperatures. The services module's cold water circuit has a flow regulator and connection for an external mains water supply. Both the cold and hot water system have precision needle valves and turbine flow meters to control and measure the flow rates.
Thermocouples at the connectors measure hot and cold inlet and outlet fluid stream temperatures. Some heatexchangers also have built-in thermocouples for extra temperature measurements. Clear, multiline digital displays show the temperatures and flow rates of the fluid streams. All optional heat exchangers have the same nominal heat transfer area and wall thickness, so students can compare them directly.
Tests can be performed with or without a computer connected. However, for quicker tests with easier recording of results, TecQuipment can supply the optional Versatile Data Acquisition System (VDAS®). This gives accurate real-time data capture, monitoring and display, calculation and charting of all the important readings on a computer.
Case study
Bangladesh Military Academy
Bangladesh Military Academy invests heavily in new equipment for teaching engineering students. 
HEAT EXCHANGER SERVICE MODULE
SUPPORTING PRODUCTS

TD1007 - Experiment
An experimental unit to show how cross-flow water to air heat exchangers work.

TE93 - Experiment
An experimental bench-mounting apparatus for studies into the principles and performance of heat exchangers.
VDAS-F (mkII) - Ancillary
A frame mounting versatile data acquisition system (VDAS) to allow computer-based data capture for a wide range of TecQuipment products.