TecQuipment founded 60 years ago, designs and manufacturers all products in its Midlands, UK based facility, which allows the company to provide the highest quality education laboratory equipment in the industry. TecQuipment operates in over 100 countries, with 80% of business from exports outside of the UK.
"The success we have achieved in recent years can be attributed to one key factor: the quality of our people. The skill and dedication they have shown has allowed us to combine reduced delivery times with a 5-year warranty, while at the same time expanding our product range with market leading products," said TecQuipment Managing Director, Simon Woods.
To keep up with global demand, TecQuipment is expanding its workforce across the business. Visit the TecQuipment careers page to find out more about the current vacancies https://www.tecquipment.com/work-with-us

- Ends -
About TecQuipment
TecQuipment is the leading provider of high quality educational equipment for engineering disciplines. The products allow students and educators to perform practical experiments to illustrate engineering principles relating to aerodynamics, control engineering, process control, hydraulics and fluid mechanics, material testing and properties, structures, renewable energies, mechanics and dynamics, thermodynamics and heat transfer, along with electrical power systems.
The company was founded 60 years ago by the Head of Mechanical Engineering at the University of Nottingham and the Managing Director of a clock making company. Over this period, TecQuipment has grown in recognition of its reliable and robust products that are all designed and manufactured to the ISO9001 standard in Nottinghamshire, UK, delivered with a 5-year warranty. The products are used by students and educators across the world, in over 1500 establishments in more than 100 countries.
Contact
Dionne Knowles Marketing Manager TecQuipment
++44 (0) 115 9722 611 Dionne.knowles@tecquipment.com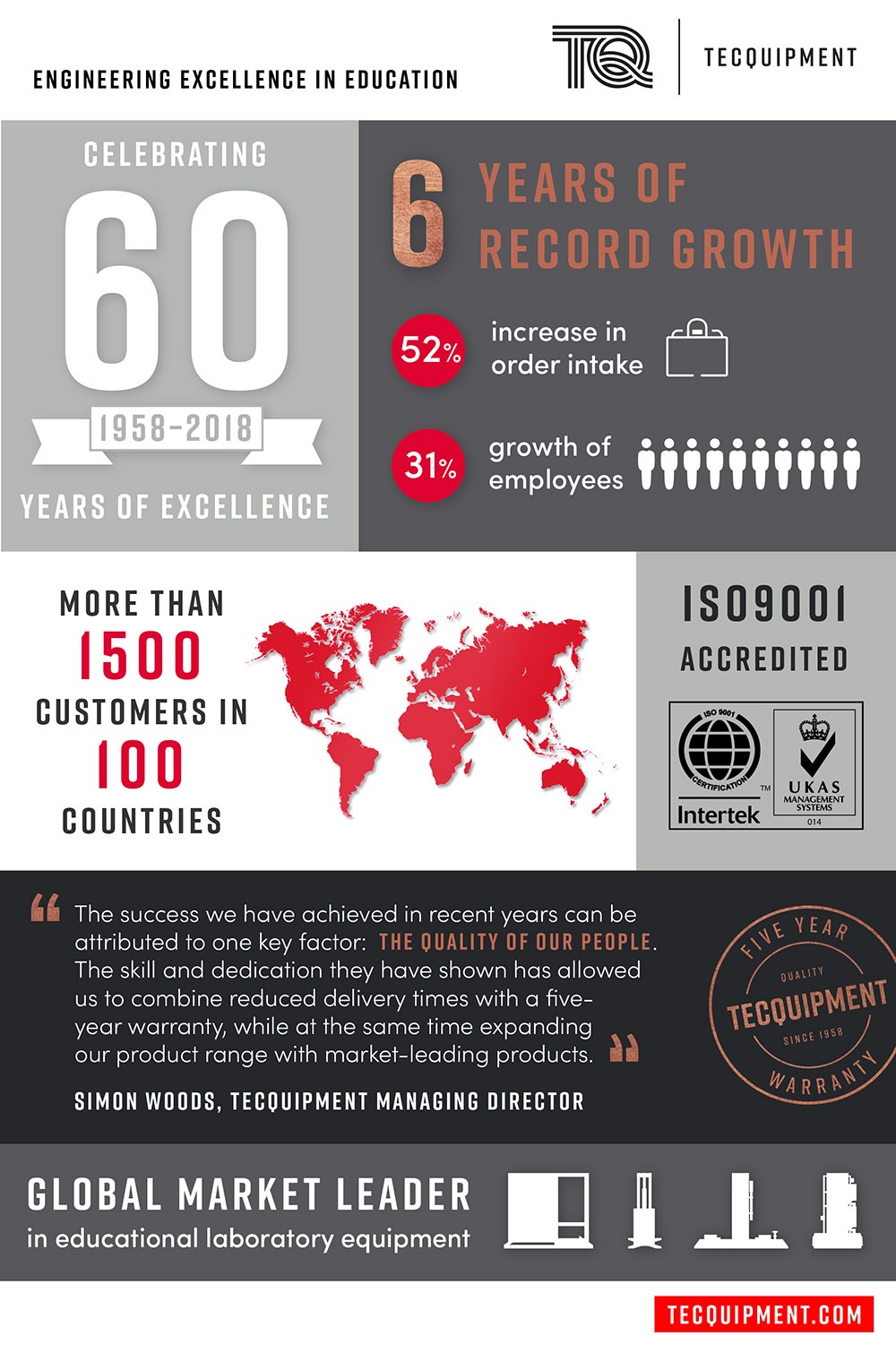 Contact:
Dionne Knowles
Marketing Manager
TecQuipment
++44 (0) 115 9722 611
Dionne.knowles@tecquipment.com