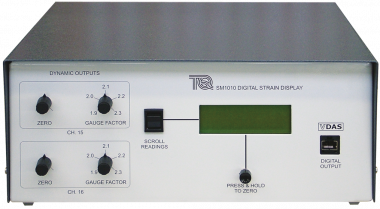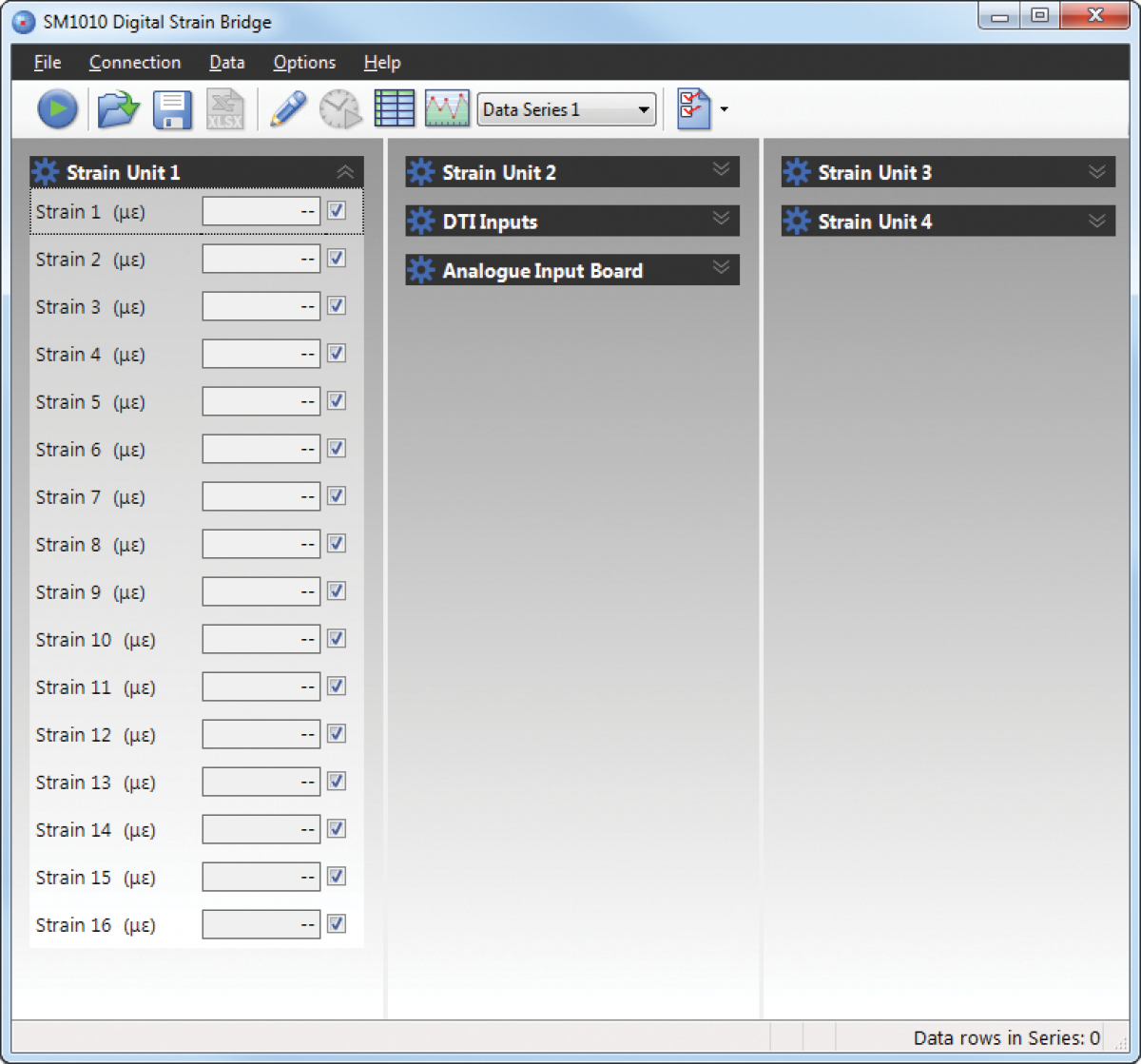 SM1010 - Base Unit
DIGITAL STRAIN DISPLAY
A sixteen channel instrument that connects to industry standard strain gauges to give direct readings of strain. Ideal for use with TecQuipment's Strain Gauge Kit (E19).
PDF datasheet
For use with most types of metal-foil strain gauges, the Digital Strain Display connects to most types of strain bridge connections to give direct readings of strain. The Digital Strain Display accepts up to 16 channels from strain gauges connected in quarter, half or full bridge. The display is fully programmable to match the strain gauges and their bridge connections. The display includes precision internal 'make-up' resistors to work with half bridge connections if needed. For quarter bridge connection you need suitable external make-up resistors or dummy gauges (not supplied).
Two channels include additional individually adjusted dynamic outputs. They can connect to suitable instruments, such as an oscilloscope or a chart recorder (not supplied) for measurement of transient strains. Supplied with the Digital Strain Display is a reel of cable and connectors to fit the input sockets of the Digital Strain Display. Also supplied is a tool that crimps the connectors to the cable. The connectors are self-locking, reliable, secure and need no soldering. 
For quick and reliable tests, TecQuipment's optional Versatile Data Acquisition System (VDAS®) gives accurate real-time data capture, monitoring and display, calculation and charting of all important readings on a computer. 
The Digital Strain Display includes a user guide with full description, installation and operating instructions.
VDAS-B (mkII) - Ancillary
A bench mounting versatile data acquisition system (VDAS) to allow computer-based data capture for a wide range of TecQuipment products.
E19 - Experiment
A kit comprising a PVC carrying case containing a selection of resistance strain gauges together with all the necessary accessories and consumable materials associated with their application. Ideal for use with the TecQuipment SM1010 Digital Strain Display.